I love watching Ted Talks.
There are many reasons why I never get tired of watching this conference online. But let me point up the very significant reasons, why:
When I learned that I had cancer, I was looking for inspiring and motivating life stories of people who beat cancer and I found most of them in Ted Talk channel on YouTube.
It entertains me in a way where I can relax and enjoy meaningful speeches.
It boosts my creativity by watching successful or inspired ideas and solutions from different people that experienced or created them.
The video that I am gonna share and summarize to all of you is a great talk from Louise Evans, a global executive coach and leadership facilitator with major international organizations like Gucci, Whirlpool, Enel, Ferrero, Fiat, Diesel, and Manpower.
The powerful message of "Own Your Behaviors, Master Your Communication, Determine Your Success" caught my attention and decided to summary it into 5 snippets.
Here we go!
Let's start with the first animal she introduced in the video, and hope you the tips or views that will be given below could help you know who you are at the moment.
The Jackals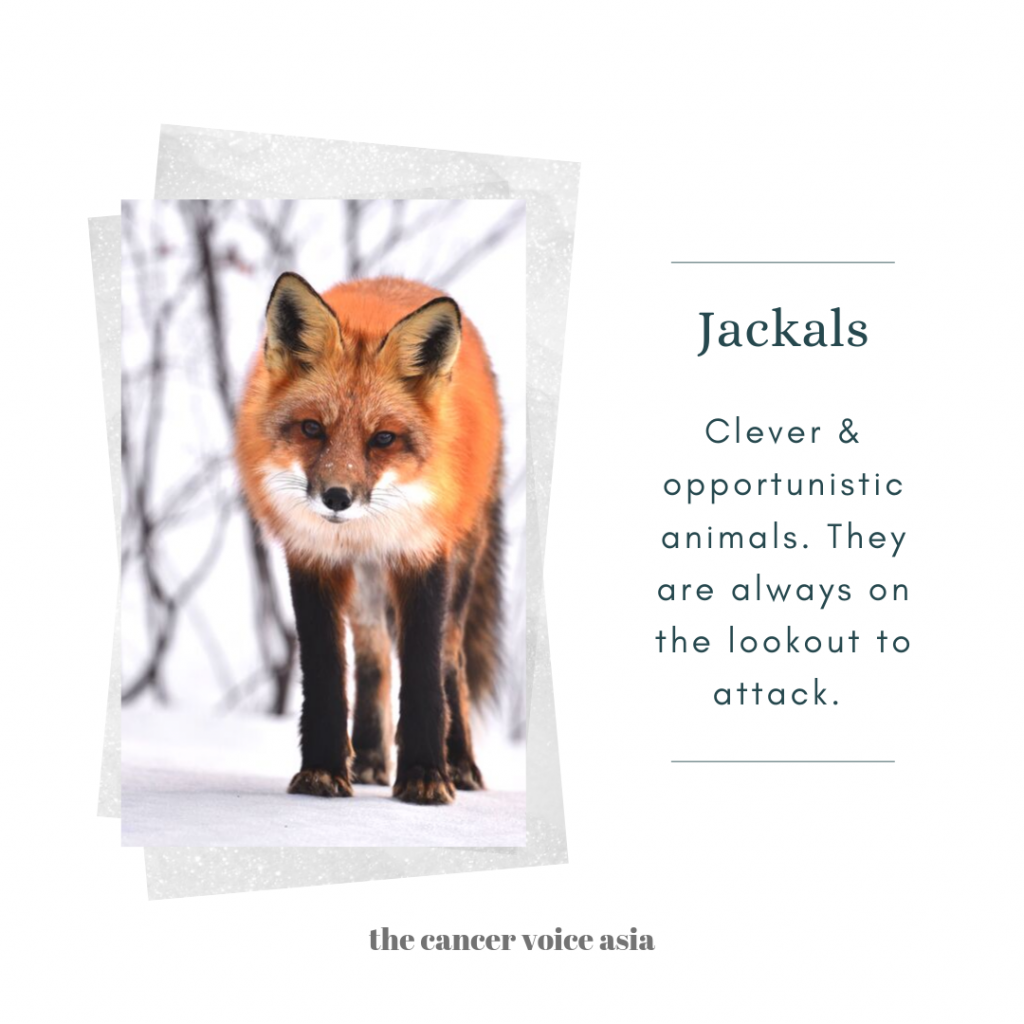 𝗦𝗼𝗺𝗲𝘁𝗶𝗺𝗲𝘀 𝘄𝗲 𝗹𝗼𝘃𝗲 𝘁𝗼 𝗯𝗹𝗮𝗺𝗲, 𝗰𝗼𝗺𝗽𝗹𝗮𝗶𝗻, 𝗽𝘂𝗻𝗶𝘀𝗵, 𝗴𝗼𝘀𝘀𝗶𝗽 – 𝗮𝗻𝗱 𝗲𝘀𝗽𝗲𝗰𝗶𝗮𝗹𝗹𝘆 𝗧𝗢 𝗝𝗨𝗗𝗚𝗘 𝗼𝘁𝗵𝗲𝗿 𝗵𝘂𝗺𝗮𝗻 𝗯𝗲𝗶𝗻𝗴𝘀 𝗹𝗶𝗸𝗲 𝘁𝗵𝗲𝘀𝗲 𝗷𝗮𝗰𝗸𝗮𝗹𝘀.
𝙃𝙚𝙧𝙚'𝙨 𝙖 𝙘𝙝𝙖𝙡𝙡𝙚𝙣𝙜𝙚 𝙛𝙤𝙧 𝙮𝙤𝙪 𝙩𝙤𝙙𝙖𝙮:
1. Go on a mental diet.
2. Spend 1 hour with some people & see if you can be with them without one single judgment going through your mind.
𝘼𝙧𝙚 𝙮𝙤𝙪 𝙜𝙖𝙢𝙚 𝙬𝙞𝙩𝙝 𝙩𝙝𝙞𝙨?
We tend to see what is wrong with other people rather than what is right.
"𝘛𝘩𝘦 𝘮𝘰𝘳𝘦 𝘸𝘦 𝘫𝘶𝘥𝘨𝘦 𝘱𝘦𝘰𝘱𝘭𝘦, 𝘵𝘩𝘦 𝘭𝘦𝘴𝘴 𝘵𝘪𝘮𝘦 𝘸𝘦 𝘩𝘢𝘷𝘦 𝘵𝘰 𝘭𝘰𝘷𝘦 𝘵𝘩𝘦𝘮." 𝘔𝘰𝘵𝘩𝘦𝘳 𝘛𝘦𝘳𝘦𝘴𝘢
The Hedgehog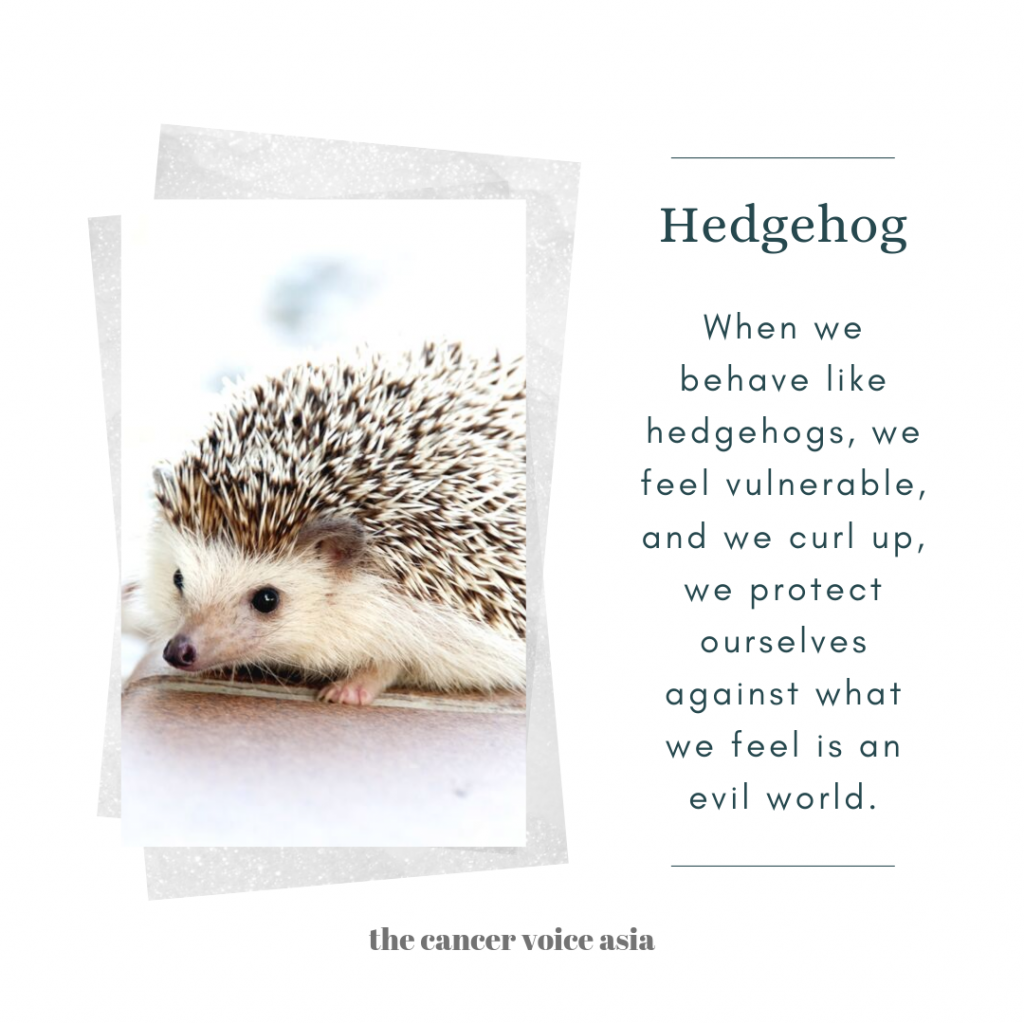 𝐒𝐄𝐋𝐅-𝐃𝐎𝐔𝐁𝐓
𝗦𝗶𝗺𝗶𝗹𝗮𝗿 𝘁𝗼 𝘁𝗵𝗲 𝗵𝗲𝗱𝗴𝗲𝗵𝗼𝗴'𝘀 𝗯𝗲𝗵𝗮𝘃𝗶𝗼𝗿, 𝘄𝗲 𝗺𝗲𝗿𝗰𝗶𝗹𝗲𝘀𝘀𝗹𝘆 𝗷𝘂𝗱𝗴𝗲 𝗼𝘂𝗿𝘀𝗲𝗹𝘃𝗲𝘀 𝗮𝗻𝗱 𝘀𝗮𝘆 𝘁𝗵𝗶𝗻𝗴𝘀 𝗹𝗶𝗸𝗲, "𝗜'𝗺 𝗻𝗼𝘁 𝗴𝗼𝗼𝗱 𝗲𝗻𝗼𝘂𝗴𝗵. 𝗜 𝗰𝗮𝗻'𝘁 𝗱𝗼 𝘁𝗵𝗶𝘀. 𝗡𝗼𝗯𝗼𝗱𝘆 𝗯𝗲𝗹𝗶𝗲𝘃𝗲𝘀 𝗶𝗻 𝗺𝗲."
𝑊𝑒 ℎ𝑎𝑣𝑒 𝑐𝑒𝑟𝑡𝑎𝑖𝑛 𝑓𝑒𝑎𝑟𝑠, 𝑤𝑒 ℎ𝑎𝑣𝑒 𝑓𝑒𝑎𝑟𝑠 𝑏𝑒𝑖𝑛𝑔 𝑟𝑒𝑗𝑒𝑐𝑡𝑒𝑑, 𝑓𝑒𝑎𝑟𝑠 𝑜𝑓 𝑑𝑖𝑠𝑎𝑝𝑝𝑜𝑖𝑛𝑡𝑖𝑛𝑔, 𝑓𝑒𝑎𝑟𝑠 𝑜𝑓 𝑓𝑎𝑖𝑙𝑖𝑛𝑔.
𝑊𝑒 𝑎𝑙𝑠𝑜 𝑝𝑙𝑎𝑦 𝑡ℎ𝑒 𝑣𝑖𝑐𝑡𝑖𝑚 𝑎𝑛𝑑 𝑠𝑎𝑦 𝑡ℎ𝑖𝑛𝑔𝑠 𝑡𝑜 𝑜𝑢𝑟𝑠𝑒𝑙𝑓 𝑙𝑖𝑘𝑒, "𝑁𝑜𝑏𝑜𝑑𝑦 𝑐𝑎𝑟𝑒𝑠 𝑓𝑜𝑟 𝑚𝑒, 𝑛𝑜𝑏𝑜𝑑𝑦 𝑙𝑜𝑣𝑒𝑠 𝑚𝑒."
𝐼𝑡'𝑠 𝑞𝑢𝑖𝑡𝑒 𝑑𝑖𝑓𝑓𝑖𝑐𝑢𝑙𝑡 𝑡𝑜 𝑎𝑑𝑚𝑖𝑡 𝑜𝑢𝑟 𝑤𝑒𝑎𝑘𝑛𝑒𝑠𝑠𝑒𝑠, 𝑤𝑒 𝑛𝑒𝑒𝑑 𝑎 𝑙𝑜𝑡 𝑜𝑓 𝑐𝑜𝑢𝑟𝑎𝑔𝑒.
𝑊𝑒 𝑎𝑙𝑙 𝑠𝑢𝑓𝑓𝑒𝑟 𝑓𝑟𝑜𝑚 𝑠𝑒𝑙𝑓-𝑑𝑜𝑢𝑏𝑡. 𝑊ℎ𝑎𝑡 𝑑𝑜 𝑤𝑒 𝑑𝑜 𝑤𝑖𝑡ℎ 𝑜𝑢𝑟 𝑠𝑒𝑙𝑓-𝑑𝑜𝑢𝑏𝑡? 𝐷𝑜 𝑤𝑒 𝑔𝑖𝑣𝑒 𝑢𝑝 𝑎𝑛𝑑 𝑔𝑖𝑣𝑒 𝑖𝑛? 𝑂𝑟 𝑑𝑜 𝑤𝑒 𝑠𝑎𝑦 𝑛𝑜?
𝙁𝙞𝙣𝙙 𝙩𝙝𝙚 𝙧𝙚𝙨𝙤𝙪𝙧𝙘𝙚𝙨 𝙖𝙣𝙙 𝙜𝙧𝙤𝙬.
"𝘛𝘩𝘦 𝘩𝘪𝘨𝘩𝘦𝘴𝘵 𝘧𝘰𝘳𝘮 𝘰𝘧 𝘪𝘯𝘵𝘦𝘭𝘭𝘪𝘨𝘦𝘯𝘤𝘦 𝘪𝘴 𝘵𝘩𝘦 𝘢𝘣𝘪𝘭𝘪𝘵𝘺 𝘵𝘰 𝘰𝘣𝘴𝘦𝘳𝘷𝘦 𝘰𝘶𝘳𝘴𝘦𝘭𝘷𝘦𝘴 𝘸𝘪𝘵𝘩𝘰𝘶𝘵 𝘫𝘶𝘥𝘨𝘪𝘯𝘨." 𝘑𝘪𝘥𝘥𝘶 𝘒𝘳𝘪𝘴𝘩𝘯𝘢𝘮𝘶𝘳𝘵𝘪
The Meerkats
𝗦𝗼𝗺𝗲 𝗼𝗳 𝘂𝘀 𝗮𝗿𝗲 𝘃𝗲𝗿𝘆 𝗺𝗶𝗻𝗱𝗳𝘂𝗹, 𝗮𝘄𝗮𝗿𝗲, 𝗼𝗯𝘀𝗲𝗿𝘃𝗮𝗻𝘁, 𝘄𝗲 𝘀𝘁𝗼𝗽 𝗮𝗻𝗱 𝗽𝗮𝘂𝘀𝗲. 𝗪𝗲 𝘁𝗮𝗸𝗲 𝗮 𝗱𝗲𝗲𝗽 𝗯𝗿𝗲𝗮𝘁𝗵 𝗮𝗻𝗱 𝘄𝗲'𝗿𝗲 𝗰𝗼𝗻𝘀𝗰𝗶𝗼𝘂𝘀.
𝗪𝗲 𝘄𝗮𝗶𝘁 – 𝗽𝗮𝘁𝗶𝗲𝗻𝘁𝗹𝘆.
𝗪𝗲 𝗯𝗲𝗰𝗼𝗺𝗲 𝘃𝗲𝗿𝘆 𝗰𝘂𝗿𝗶𝗼𝘂𝘀.
𝗪𝗵𝗮𝘁 𝗮𝗺 𝗜 𝘁𝗵𝗶𝗻𝗸𝗶𝗻𝗴? 𝗪𝗵𝗮𝘁 𝗮𝗺 𝗜 𝘁𝗲𝗹𝗹𝗶𝗻𝗴 𝗺𝘆𝘀𝗲𝗹𝗳?
𝗜𝗳 𝘀𝗼𝗺𝗲𝗯𝗼𝗱𝘆 𝗶𝘀 𝗮𝗻𝗴𝗿𝘆, 𝗶𝗻𝘀𝘁𝗲𝗮𝗱 𝗼𝗳 𝘀𝗮𝘆𝗶𝗻𝗴, "𝗚𝗿𝗼𝘄 𝘂𝗽, 𝘄𝗶𝗹𝗹 𝘆𝗼𝘂?" 𝗪𝗲 𝘁𝗵𝗶𝗻𝗸, "𝗜 𝘄𝗼𝗻𝗱𝗲𝗿 𝘄𝗵𝘆 𝘁𝗵𝗮𝘁 𝗽𝗲𝗿𝘀𝗼𝗻 𝗶𝘀 𝗮𝗻𝗴𝗿𝘆?" 𝗔𝗻𝗱 𝘄𝗲 𝗳𝗲𝗲𝗹 𝗶𝗻𝘁𝗲𝗿𝗲𝘀𝘁𝗲𝗱.
We have a choice. Fight or flight? Red or blue? When we make the right choice, we move into successful living.
"𝘠𝘰𝘶 𝘩𝘢𝘷𝘦 𝘺𝘰𝘶𝘳 𝘸𝘢𝘺, 𝘐 𝘩𝘢𝘷𝘦 𝘮𝘺 𝘸𝘢𝘺. 𝘈𝘴 𝘧𝘰𝘳 𝘵𝘩𝘦 𝘳𝘪𝘨𝘩𝘵 𝘸𝘢𝘺 𝘢𝘯𝘥 𝘵𝘩𝘦 𝘰𝘯𝘭𝘺 𝘵𝘩𝘦 𝘸𝘢𝘺, 𝘪𝘵 𝘥𝘰𝘦𝘴 𝘯𝘰𝘵 𝘦𝘹𝘪𝘴𝘵." 𝘕𝘪𝘦𝘵𝘻𝘤𝘩𝘦
The Dolphins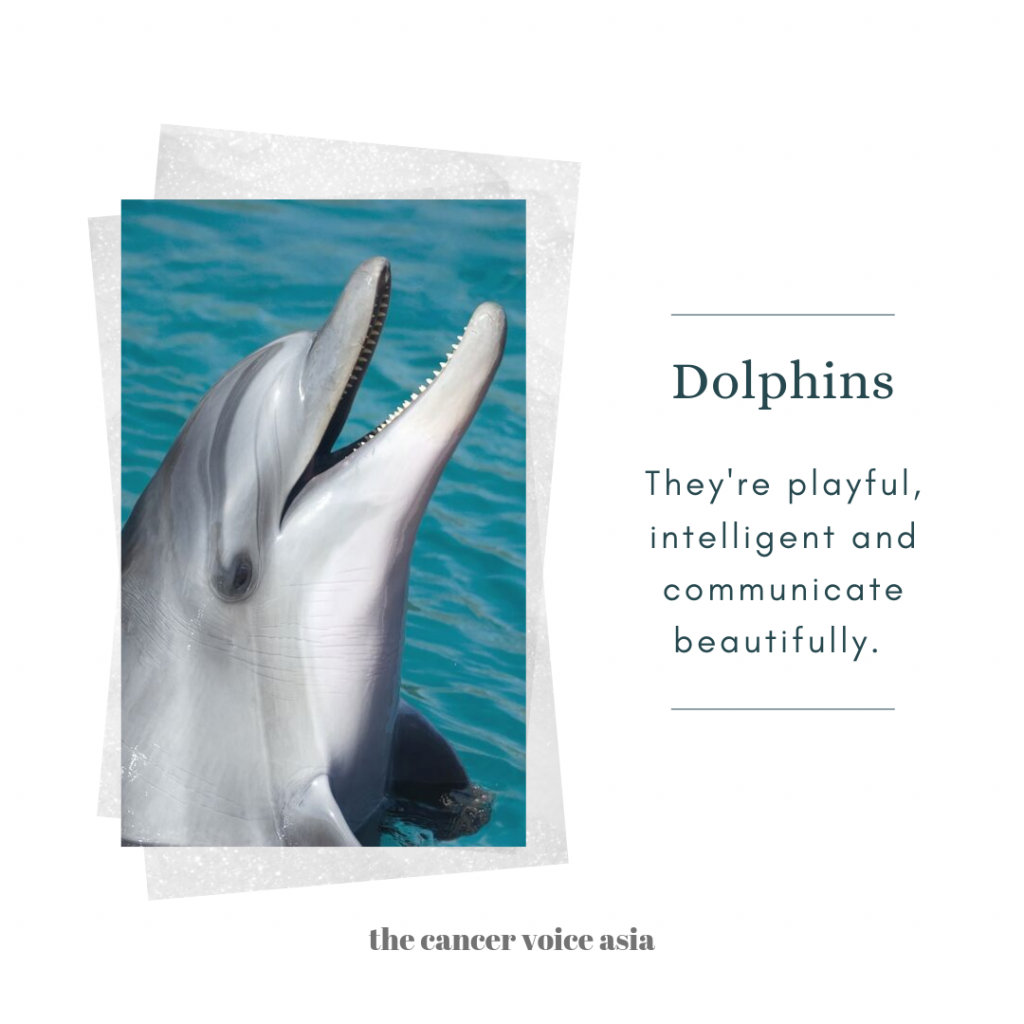 𝗦𝗘𝗟𝗙-𝗔𝗪𝗔𝗥𝗘𝗡𝗘𝗦𝗦
𝗔𝗿𝗲 𝘆𝗼𝘂 𝗹𝗶𝗸𝗲 𝗮 𝗱𝗼𝗹𝗽𝗵𝗶𝗻?
𝐿𝑖𝑘𝑒 𝑡ℎ𝑒𝑚, 𝑤𝑒 𝑡𝑒𝑛𝑑 𝑡𝑜 𝑏𝑒𝑐𝑜𝑚𝑒 𝑎 𝑑𝑒𝑡𝑒𝑐𝑡𝑖𝑣𝑒 𝑜𝑓 𝑜𝑢𝑟𝑠𝑒𝑙𝑣𝑒𝑠, 𝑙𝑖𝑘𝑒 𝑆ℎ𝑒𝑟𝑙𝑜𝑐𝑘 𝐻𝑜𝑙𝑚𝑒𝑠 𝑜𝑓 𝑜𝑢𝑟𝑠𝑒𝑙𝑣𝑒𝑠.
𝐿𝑖𝑘𝑒 𝑡ℎ𝑒𝑚, 𝑤𝑒 𝑡𝑎𝑘𝑒 𝑎 𝑚𝑎𝑔𝑛𝑖𝑓𝑦𝑖𝑛𝑔 𝑔𝑙𝑎𝑠𝑠, 𝑎𝑛𝑑 𝑤𝑒 𝑙𝑜𝑜𝑘 𝑎𝑡 𝑜𝑢𝑟 𝑏𝑒ℎ𝑎𝑣𝑖𝑜𝑟𝑠.
You know who you are. You know what you want. You know where you're going. You're not afraid to speak the truth. But also you create your boundaries and look after yourself.
You're powerful and you never easily give your power away. You grow, become free and come into your full power. You become assertive, but not aggressive.
"𝘒𝘯𝘰𝘸𝘪𝘯𝘨 𝘺𝘰𝘶𝘳𝘴𝘦𝘭𝘧 𝘪𝘴 𝘵𝘩𝘦 𝘣𝘦𝘨𝘪𝘯𝘯𝘪𝘯𝘨 𝘰𝘧 𝘢𝘭𝘭 𝘸𝘪𝘴𝘥𝘰𝘮." 𝘈𝘳𝘪𝘴𝘵𝘰𝘵𝘭𝘦
The Giraffe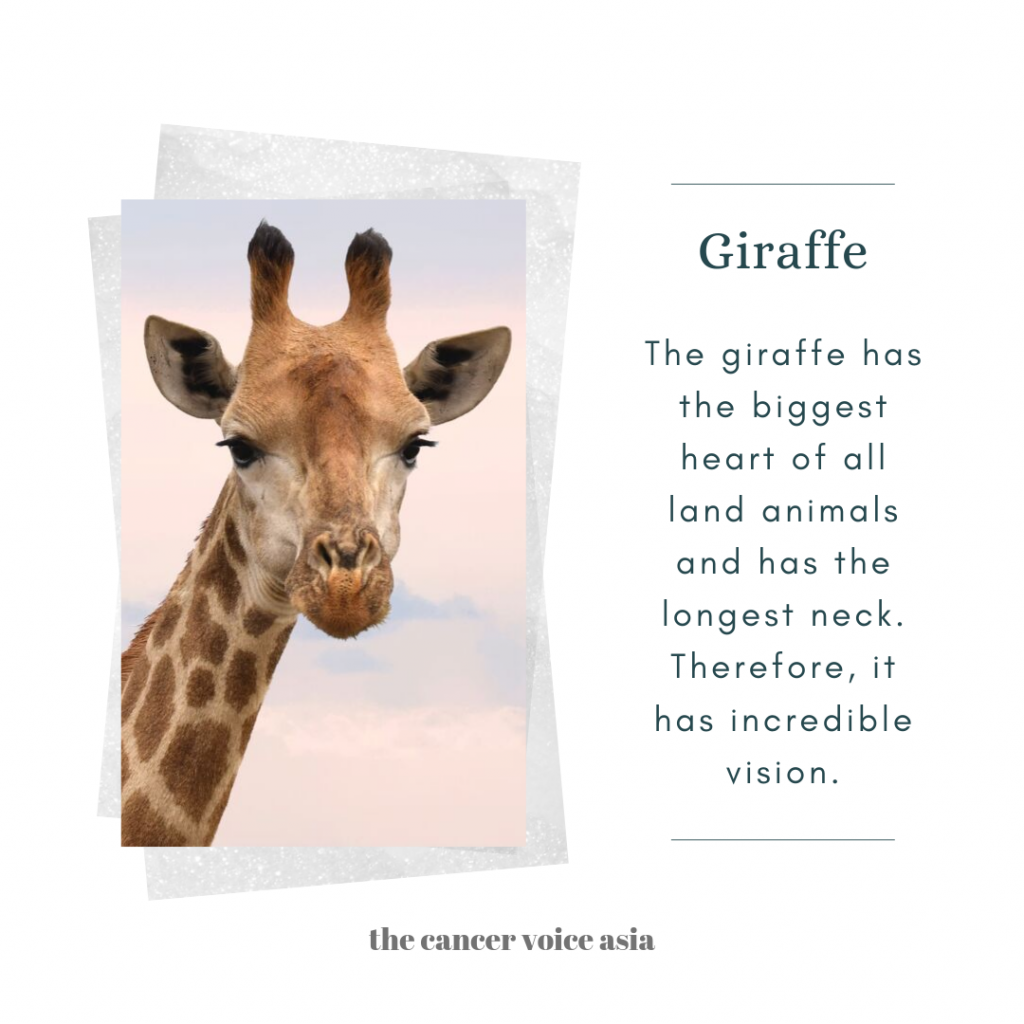 𝐒𝐭𝐞𝐩𝐩𝐢𝐧𝐠 𝐢𝐧𝐭𝐨 𝐬𝐨𝐦𝐞𝐛𝐨𝐝𝐲 𝐞𝐥𝐬𝐞'𝐬 𝐬𝐡𝐨𝐞𝐬 𝐚𝐧𝐝 𝐮𝐧𝐝𝐞𝐫𝐬𝐭𝐚𝐧𝐝𝐢𝐧𝐠 𝐭𝐡𝐞𝐦 𝐢𝐬 𝐚 𝐠𝐫𝐞𝐚𝐭 𝐚𝐜𝐭 𝐨𝐟 𝐠𝐞𝐧𝐞𝐫𝐨𝐬𝐢𝐭𝐲.
𝑆𝑜𝑚𝑒 𝑐𝑎𝑛 ℎ𝑎𝑣𝑒 𝑡ℎ𝑒 𝑎𝑏𝑖𝑙𝑖𝑡𝑦 𝑡𝑜 𝑑𝑖𝑠𝑝𝑙𝑎𝑦 𝑒𝑚𝑝𝑎𝑡ℎ𝑦, 𝑐𝑜𝑚𝑝𝑎𝑠𝑠𝑖𝑜𝑛, 𝑎𝑛𝑑 𝑢𝑛𝑑𝑒𝑟𝑠𝑡𝑎𝑛𝑑𝑖𝑛𝑔.
𝑇ℎ𝑒𝑦 𝑝𝑢𝑡 𝑡ℎ𝑒𝑖𝑟 𝑒𝑔𝑜𝑠 𝑜𝑛 𝑡ℎ𝑒 𝑏𝑎𝑐𝑘 𝑏𝑢𝑟𝑛𝑒𝑟 𝑎𝑛𝑑 𝑙𝑖𝑠𝑡𝑒𝑛 𝑡𝑜 𝑝𝑒𝑜𝑝𝑙𝑒. 𝑇ℎ𝑒𝑦 ℎ𝑜𝑙𝑑 𝑝𝑒𝑜𝑝𝑙𝑒 𝑖𝑛 𝑡ℎ𝑒𝑖𝑟 𝑝𝑟𝑒𝑠𝑒𝑛𝑐𝑒 𝑎𝑛𝑑 𝑐𝑎𝑟𝑒 𝑓𝑜𝑟 𝑡ℎ𝑒𝑚.
𝐿𝑜𝑜𝑘 𝑎𝑡 𝑜𝑡ℎ𝑒𝑟 𝑝𝑒𝑟𝑠𝑝𝑒𝑐𝑡𝑖𝑣𝑒𝑠, 𝑒𝑚𝑏𝑟𝑎𝑐𝑒 𝑜𝑡ℎ𝑒𝑟 𝑟𝑒𝑎𝑙𝑖𝑡𝑖𝑒𝑠, 𝑑𝑖𝑣𝑒𝑟𝑠𝑖𝑡𝑦 𝑎𝑛𝑑 𝑏𝑒 𝑡𝑜𝑙𝑒𝑟𝑎𝑛𝑡.
The best question to ask yourself in this kind of behavior is, "What is important for him or her?" It helps you to stay connected with others whatever happens.
"𝘐 𝘥𝘰𝘯'𝘵 𝘭𝘪𝘬𝘦 𝘵𝘩𝘢𝘵 𝘮𝘢𝘯. 𝘐 𝘮𝘶𝘴𝘵 𝘨𝘦𝘵 𝘵𝘰 𝘬𝘯𝘰𝘸 𝘩𝘪𝘮 𝘣𝘦𝘵𝘵𝘦𝘳." 𝘈𝘣𝘳𝘢𝘩𝘢𝘮 𝘓𝘪𝘯𝘤𝘰𝘭𝘯
"Everything can be taken from man but one thing. The last of human freedoms – to choose one's attitude in any given set of circumstances." Viktor Frankl
Disclaimer:
This article contains copyrighted material the use of which has not always been specifically authorized by the copyright owner. The Cancer Voice Asia is making such article available in its efforts to be grasped and comprehended easily by the readers.  This material contained in this website is distributed without profit for research and educational purposes. This should constitute a 'fair use act' of any such copyrighted material (referenced & provided for in section 107 of the US Copyright Law). If you wish to use any copyrighted material from this site for your purposes of your own that go beyond 'fair use', you must obtain expressed permission from the copyright owner.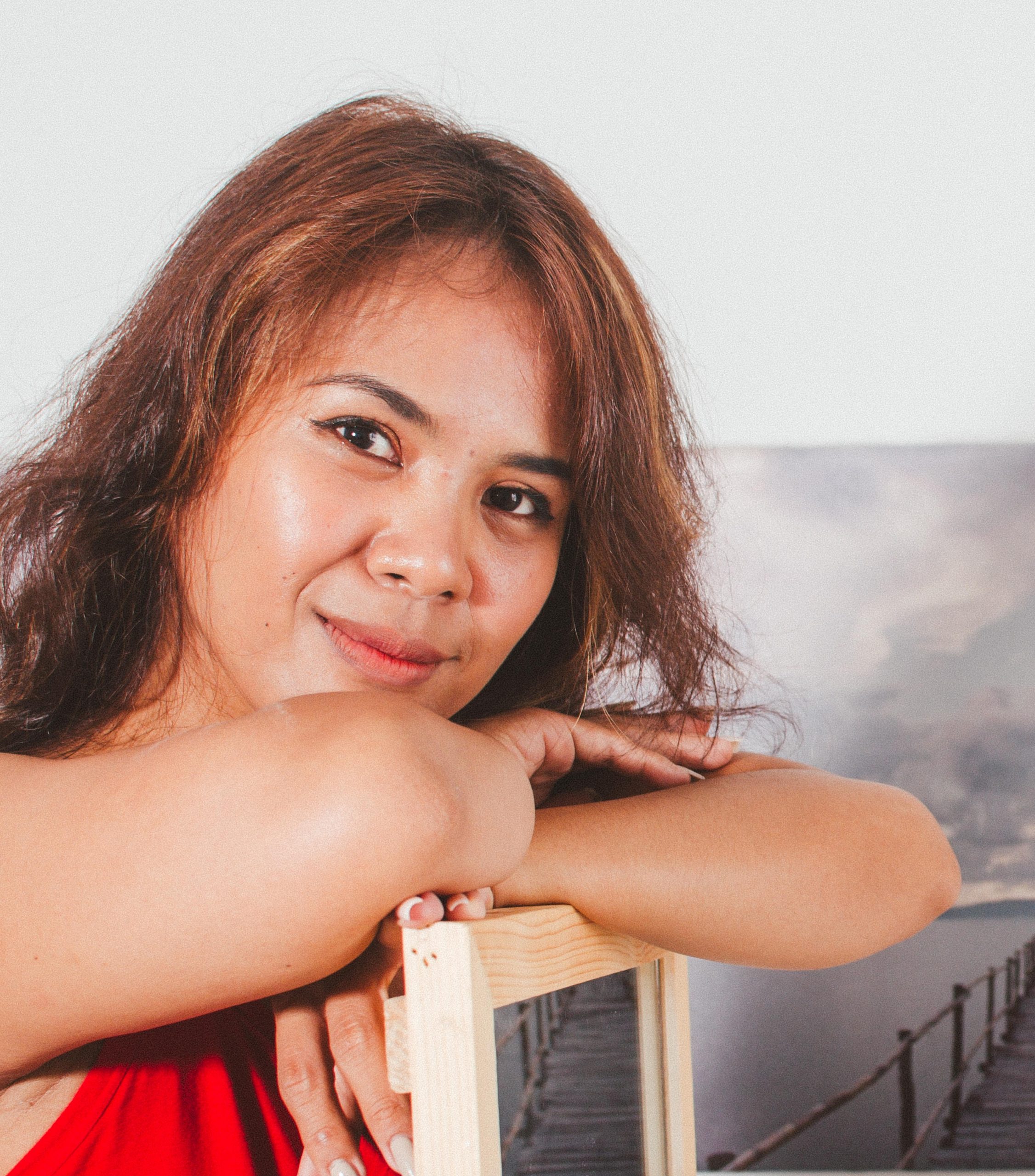 🌐 I'm the author of "The Cancer Voice Asia", and I want to share my experience with cancer to help you through yours. We create a special network of people living with similar experiences that allows us to empower ourselves and helps us to fight against the disease.
👩‍🔬I was diagnosed with Leiomyosarcome in 2016, when I was 29 years old. My healing journey becomes your healing journey, and I want to use this platform to inspire people all over the world.